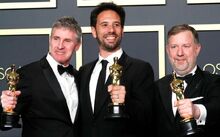 The Academy Award for Best Visual Effects is an Academy Award that recognizes the finest or most outstanding visual effects in film.
The Academy of Motion Picture Arts and Sciences first recognized the technical contributions of special effects to movies at its inaugural dinner in 1928, presenting a plaque for Best Engineering Effects to the first Best Picture Oscar winner, the World War I flying drama Wings.
Producer David O. Selznick, then production head at RKO Studios, petitioned the Academy Board of Governors to recognize the work of animator Willis O'Brien for his groundbreaking work on 1933's King Kong (1933).
But it was not until 1938 when a film was actually recognized for its effects work, when a "Special Achievement Award for Special Effects" was given to the Paramount film Spawn of the North. The following year, Best Special Effects became a recognized category, although on occasion the Academy has chosen to honor a single film outright rather than nominate two or more films. From 1939 to 1963, it was an award for a film's visual effects as well as audio effects, so usually it was given to two persons, although some years only one or the other type of effect was recognised. In 1964, it was given only for visual effects, and the following year the name of the category was changed to Best Special Visual Effects.
Between 1972 and 1977, there was no specific award for visual effects. As such work was awarded within the umbrella award called Special Achievement Academy Award. In 1977, a specific award category for visual effects was reintroduced with the current name, Best Visual Effects, although until 1995, visual effects could for some years continue to be given within the Special Achievement Academy Award instead. Which 1990 was the last year there was no official nominations, but instead a special achievement given.
Nominees & winners
1927/28: The category was named

Best Engineering Effects
11th Academy Awards, 1938

Special Achievement Academy Award

—

Spawn of the North

—

Gordon Jennings

,

Farciot Edouart

,

Loyal Griggs
1939 - 1963: The category was named

Best Special Effects
1964 - 1971: The category was named

Best Special Visual Effects
Best Visual Effects By Decade

1970s
45th Academy Awards

, 1972

Special Achievement Academy Award

—

The Poseidon Adventure

—

L. B. Abbott

,

A. D. Flowers
47th Academy Awards

, 1974

Special Achievement Academy Award

—

Earthquake

—

Frank Brendel

,

Glen Robinson

,

Albert Whitlock
48th Academy Awards

, 1975

Special Achievement Academy Award

—

The Hindenburg

—

Albert Whitlock

,

Glen Robinson
49th Academy Awards

, 1976

Special Achievement Academy Award

—

King Kong (1976)

—

Carl Rambaldi

,

Glen Robinson

,

Frank Van der Veer



Logan's Run — L. B. Abbott, Glen Robinson, Matthew Yuricich
50th Academy Awards (1977)
Winner

Star Wars —

John Stears

, John Dykstra,

Richard Edlund

,

Grant McCune

,

Robert Blalack

Nominees

Close Encounters of the Third Kind

—

Roy Arbogast

,

Douglas Trumbull

,

Matthew Yuricich

,

Gregory Jein

,

Richard Yuricich
51st Academy Awards

, 1978

Special Achievement Academy Award

—

Superman

—

Les Bowie

,

Colin Chilvers

,

Denys Coop

,

Roy Field

,

Derek Meddings

,

Zoran Perisic
52nd Academy Awards (1979)
Winner

Alien

—

H.R. Giger

,

Carlo Rambaldi

,

Brian Johnson

,

Nick Allder

,

Denys Ayling

Nominees

The Black Hole

—

Peter Ellenshaw

,

Art Cruickshank

,

Eustace Lycett

,

Danny Lee

,

Harrison Ellenshaw

,

Joe Hale

Moonraker

—

Derek Meddings

,

Paul Wilson

,

John Evans

1941

—

William A. Fraker

,

A. D. Flowers

,

Gregory Jein

Star Trek - The Motion Picture

—

Douglas Trumbull

, John Dykstra,

Richard Yuricich

,

Robert Swarthe

,

Dave Stewart

,

Grant McCune

1980s
53rd Academy Awards

, 1980

Special Achievement Academy Award

— The Empire Strikes Back —

Brian Johnson

,

Richard Edlund

, Dennis Muren,

Bruce Nicholson
54th Academy Awards (1981)
Winner

Raiders of the Lost Ark —

Richard Edlund

,

Kit West

,

Bruce Nicholson

, Joe Johnston

Nominees

Dragonslayer

— Dennis Muren,

Phil Tippett

, Ken Ralston,

Brian Johnson
55th Academy Awards (1982)
Winner

E.T. The Extra-Terrestrial

—

Carlo Rambaldi

, Dennis Muren,

Kenneth F. Smith

Nominees

Blade Runner

—

Douglas Trumbull

,

Richard Yuricich

,

David Dryer

Poltergeist

—

Richard Edlund

,

Michael Wood

,

Bruce Nicholson
56th Academy Awards

, 1983

Special Achievement Academy Award

— Return of the Jedi —

Richard Edlund

, Dennis Muren, Ken Ralston,

Phil Tippett
57th Academy Awards (1984)
Winner

Indiana Jones and the Temple of Doom — Dennis Muren,

Michael McAlister

,

Lorne Peterson

,

George Gibbs

Nominees

Ghostbusters

—

Richard Edlund

,

John Bruno

,

Mark Vargo

,

Chuck Gaspar

2010 —

Richard Edlund

,

Neil Krepela

,

George Jenson

, Mark Stetson
58th Academy Awards (1985)
Winner

Cocoon

— Ken Ralston,

Ralph McQuarrie

, Scott Farrar,

David Berry

Nominees

Return to Oz

—

Will Vinton

,

Ian Wingrove

,

Zoran Perisic

,

Michael Lloyd

Young Sherlock Holmes

— Dennis Muren,

Kit West

,

John Ellis

,

David Allen
59th Academy Awards (1986)
Winner

Aliens —

Robert Skotak

, Stan Winston, John Richardson,

Suzanne Benson

Nominees

Little Shop of Horrors —

Lyle Conway

,

Bran Ferren

,

Martin Gutteridge

Poltergeist II: The Other Side

—

Richard Edlund

,

John Bruno

,

Garry Waller

,

William Neil
60th Academy Awards (1987)
Winner

Innerspace

— Ian Tapp, Richard Pryke, Resul Pookutty

Nominees

Predator

—

Joel Hynek

,

Robert M. Greenberg

,

Richard Greenberg

, Stan Winston
61st Academy Awards (1988)
Winner

Who Framed Roger Rabbit

— Ken Ralston, Richard Williams,

Edward Jones

,

George Gibbs

Nominees

Die Hard

—

Richard Edlund

,

Al DiSarro

,

Brent Boates

,

Thaine Morris

Willow

— Dennis Muren,

Michael McAlister

,

Phil Tippett

,

Chris Evans
62nd Academy Awards (1989)
Winner

The Abyss

— Ken Ralston,

Michael Lantieri

,

John Bell

,

Steve Gawley

Nominees

The Adventures of Baron Munchausen

—

Richard Conway

,

Kent Houston

Back to the Future II

—

John Bruno

, Dennis Muren,

Hoyt Yeatman

,

Dennis Skotak

1990s
63rd Academy Awards, 1990

Special Achievement Academy Award

—

Total Recall

—

Eric Brevig

,

Rob Bottin

,

Tim McGovern

, Alex Funke
64th Academy Awards (1991)
Winner

Terminator 2: Judgment Day

— Dennis Muren, Stan Winston,

Gene Warren, Jr.

,

Robert Skotak

Nominees

Backdraft

—

Mikael Salomon

, Allen Hall,

Clay Pinney

, Scott Farrar

Hook

—

Eric Brevig

,

Harley Jessup

,

Mark Sullivan

,

Michael Lantieri
65th Academy Awards (1992)
Winner

Death Becomes Her

— Ken Ralston,

Doug Chiang

,

Doug Smythe

,

Tom Woodruff, Jr.

Nominees

Alien 3

—

Richard Edlund

,

Alec Gillis

,

Tom Woodruff, Jr.

,

George Gibbs

Batman Returns — Michael Fink, Craig Barron,

John Bruno

,

Dennis Skotak
66th Academy Awards (1993)
Winner

Jurassic Park

— Dennis Muren, Stan Winston,

Phil Tippett

,

Michael Lantieri

Nominees

Cliffhanger

—

Neil Krepela

, John Richardson,

John Bruno

,

Pamela Easley

The Nightmare Before Christmas —

Pete Kozachik

,

Eric Leighton

,

Ariel Velasco Shaw

,

Gordon Baker
67th Academy Awards (1994)
Winner

Forrest Gump

— Ken Ralston,

George Murphy

, Stephen Rosenbaum, Allen Hall

Nominees

The Mask

—

Scott Squires

,

Steve Williams

,

Tom Bertino

,

Jon Farhat

True Lies

—

John Bruno

,

Thomas L. Fisher

,

Jacques Stroweis

,

Patrick McClung
68th Academy Awards (1995)
Winner

Babe

—

Scott E. Anderson

, Charles Gibson, Neal Scanlan,

John Cox

Nominees

Apollo 13

—

Robert Legato

,

Michael Kanfer

,

Leslie Ekker

,

Matt Sweeney
69th Academy Awards (1996)
Winner

Independence Day —

Volker Engel

,

Douglas Smith

,

Clay Pinney

,

Joseph Viskocil

Nominees

Dragonheart —

Scott Squires

,

Phil Tippett

,

James Straus

,

Kit West

Twister — Stefen Fangmeier, John Frazier,

Habib Zargarpour

,

Henry La Bounta
70th Academy Awards (1997)
Winner

Titanic —

Robert Legato

,

Mark Lasoff

,

Thomas L. Fisher

,

Michael Kanferl

Nominees

The Lost World: Jurassic Park

— Dennis Muren, Stan Winston, Randal M. Dutra,

Michael Lantieri

Starship Troopers

—

Phil Tippett

,

Scott E. Anderson

,

Alec Gillis

, John Richardson
71st Academy Awards (1998)
Winner

What Dreams May Come

—

Joel Hynek

,

Nicholas Brooks

,

Stuart Robertson

,

Kevin Mack

Nominees

Armageddon — Richard R. Hoover,

Pat McClung

, John Frazier

Mighty Joe Young

—

Rick Baker, Hoyt Yeatman, Allen Hall, Jim Mitchell
72nd Academy Awards (1999)
Winner

The Matrix —

John Gaeta

, Janek Sirrs,

Steve Courtley

, Jon Thum

Nominees

Star Wars Episode I: The Phantom Menace — John Knoll, Dennis Muren,

Scott Squires

,

Rob Coleman

Stuart Little

— John Dykstra,

Jerome Chen

,

Henry F. Anderson III

,

Eric Allard

2000s
73rd Academy Awards (2000)
Winner

Gladiator — John Nelson, Neil Corbould, Tim Burke,

Rob Harvey

Nominees

Hollow Man

—

Scott E. Anderson

,

Craig Hayes

, Scott Stokdyk,

Stan Parks

The Perfect Storm

— Stefen Fangmeier,

Habib Zargarpour

, John Frazier,

Walt Conti
74th Academy Awards (2001)
Winner

The Lord of the Rings: The Fellowship of the Ring — Jim Rygiel, Randall William Cook, Richard Taylor, Mark Stetson

Nominees

A.I. Artificial Intelligence

— Dennis Muren, Scott Farrar, Stan Winston,

Michael Lantieri

Pearl Harbor

—

Eric Brevig

, John Frazier,

Ed Hirsh

, Ben Snow
75th Academy Awards (2002)
Winner

Nominees

Star Wars Episode II: Attack of the Clones —

Rob Coleman

, Pablo Helman, John Knoll, Ben Snow
76th Academy Awards (2003)
Winner

The Lord of the Rings: The Return of the King — Jim Rygiel, Joe Letteri, Randall William Cook, Alex Funke

Nominees

Master and Commander: The Far Side of the World — Dan Sudick, Stefen Fangmeier, Nathan McGuinness, Robert Stromberg
77th Academy Awards (2004)
Winner

Nominees
78th Academy Awards (2005)
Winner

King Kong (2005) — Joe Letteri,

Brian Van't Hul

, Christian Rivers, Richard Taylor

Nominees

The Chronicles of Narnia: The Lion, the Witch and the Wardrobe — Dean Wright, Bill Westenhofer, Jim Berney, Scott Farrar
79th Academy Awards (2006)
Winner

Nominees
80th Academy Awards (2007)
Winner

Nominees
81st Academy Awards (2008)
Winner

Nominees
82nd Academy Awards (2009)
Winner

Nominees

2010s
83rd Academy Awards (2010)
Winner

Nominees
84th Academy Awards (2011)
Winner

Nominees
85th Academy Awards (2012)
Winner

Nominees
86th Academy Awards (2013)
Winner

Nominees
87th Academy Awards (2014)
Winner

Nominees
88th Academy Awards (2015)
Winner

Nominees
89th Academy Awards (2016)
Winner

The Jungle Book —

Robert Leggto

,

Adam Valdez

, Andrew R. Jones, Dan Lemmon

Nominees

Deepwater Horizon —

Craig Hammack

,

Jason Snell

,

Jason Billington

, Burt Dalton
Doctor Strange — Stephane Ceretti,

Richard Bluff

,

Vincent Cirelli

, Paul Corbould
{{{nominee3}}}
Kubo and the Two Strings —

Steve Emerson

,

Oliver Jones

,

Brian McLean

,

Brad Schiff

Rogue One: A Star Wars Story — John Knoll,

Moehn Leo

, Hal Hickel, Neil Corbould
90th Academy Awards (2017)
Winner

Nominees
91st Academy Awards (2018)
Winner

Nominees
92nd Academy Awards (2019)
Winner

Nominees

2020s
93rd Academy Awards (2020)
Winner

TBD

Nominees

Love and Monsters —

Matt Sloan

,

Genevieve Camailleri

,

Matt Everitt

, Brian Cox
The Midnight Sky —

Matthew Kasmir

, Chris Lawrence,

Max Solomon

,

David Watkins

Mulan —

Sean Andrew Faden

,

Anders Langlands

,

Seth Maury

,

Steve Ingram

The One and Only Ivan — Nick Davis,

Greg Fisher

,

Ben Jones

,

Santiago Colomo Martinez

Tenet —

Andrew Jackson

, David Lee, Andrew Lockley, Scott R. Fisher
Related Categories
Best Special Effects

Best Special Visual Effects